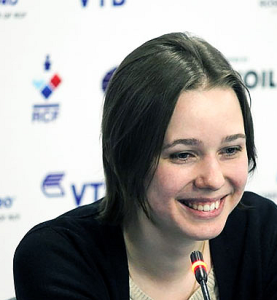 Mariya Muzychuk is the 15th World Women's Champion! Congratulations to her for a stupendous performance. In the last game of the match, Natalia Pogonina needed a win at all costs, and she needed a miracle once again in the tournament. Unfortunately, she had Black, and Mariya Muzychuk only needed a draw! Muzychuk pretty much clamped down Natalia in the deciding game. And a new champion was crowned on this date (see her smiling pic on the left).
The grueling Women's World Chess Championship took place from March 17 – April 7 in Sochi, Russia. The knock-out tournament was attended by 64 players, including the former World Champions Alexandra Kosteniuk (Russia), Anna Ushenina (Ukraine), and Antoaneta Stefanova (Bulgaria), the three-time Russian champion Valentina Gunina, the World Vice-Champion our own Humpy Koneru (India), our other strong contender Dronavalli Harika, as well as other leading grandmasters. Unfortunately, the reigning champion Hou Yifan was could not make it for personal reasons, but as the winner of the FIDE Grand Prix she will still be able to challenge the new champion to a match duel.
In a tournament that spanned approximately two weeks, it was getting crazier and crazier each passing day. The Indian challenge was well carried by Koneru Humpy and Dronavalli Harika but in the end a little bit of luck was also needed. What is commendable is the dream run that Harika had. What poise! What stamina! I wish her many more years of top-notch success as she is one who deserves it fully. The World Women's Championship was indeed a revelation for her!
The level of tension and fight can be understood by the fact that of the four matches left, three were to be decided in the tiebreaks! Harika Dronavalli was the only player to avoid that fate, as she defeated Meri Arabidze. Both Humpy Koneru and Natalia Pogonina were able to win in the tie-breaks, with the Russian winning her game with her trademark entertaining Benko Gambit.
Did Harika Dronavalli find her energy using the Ancient Indian Yogic pose called Vajrasana?
I remember seeing here in Chennai during the WinTV Chess tournament where She was accompanied by her Parents. She has not changed much! Anyways, now that the secret is out of the bag I think many female players in India will follow her and we may get to see a lot more Vajrasanas in Chess! I was gung ho when I saw here leading along with Humpy and when she faltered I was sure Destiny had planned better things for her.
One thing is for sure – anything that helps is needed and welcome in these pressure cooker situations (see Nakamura's pic below)!  The World Women's Championship tournament was indeed nerve wracking for the followers and the players!
Look what our local media had to say about her run in the WWCC – D Harika: Nerves of Steel in World Chess Championship
On a side note do you remember Hikaru Nakamura's Sunglasses?
Let's hope Harika sets a benchmark in Indian Ladies Chess Scene and we get many more champions who will carry the Indian Torch forward! Thank you Koneru Humpy and Dronavalli Harika for making us proud!